Streamline Your Supply Chain with Comprehensive Technology
Future-proof your business with technology solutions suitable for your supply chain. We help you simplify every stage of your supply chain and gain complete visibility of orders and inventory on a single dashboard.
EdgeOS
Unified Tech Platform for End-to-End Fulfillment
EdgeOS is a comprehensive portal that enables you to gain end-to-end visibility of your supply chain processes. It provides real-time data access, empowering you to control your inventory, order processing, and delivery processes. In addition, EdgeOS facilitates seamless connectivity across multiple warehouses and all stakeholders in the supply chain, enabling agile decision-making to adapt quickly to changing demand and delivery constraints.
Pre-Integrated Marketplaces
and Shipping Partner
Improved Inventory Visibility
and accuracy
Effortless Inward and
Outward Operations
FIFO FEFO-Based Picking
and Bundling
Returns and Exchange
Management
Strategic Storage
Network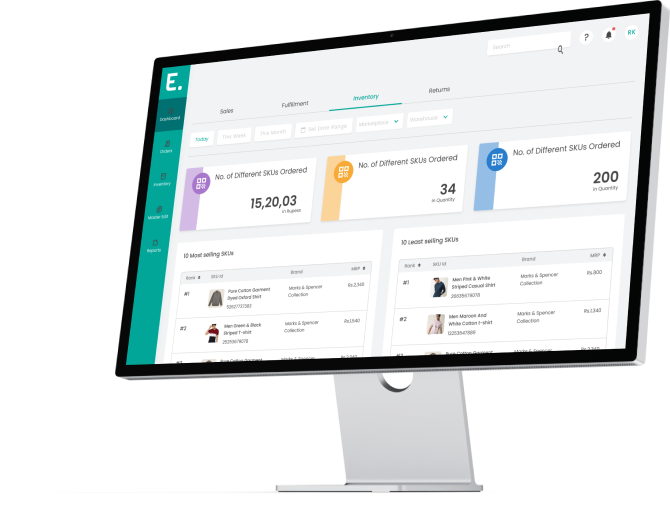 Order
Management System
Unified Order Processing with Real-time Data and Insights
Efficiently manage your orders from all channels on a unified dashboard. Our OMS allows you to streamline the process of receiving, processing and fulfilling orders by consolidating them on a single platform. One-click integrations with leading ERPs and accounting tools help you to synchronize stock, sales and purchasing information. As a result, you gain real-time visibility into your inventory levels, orders, and shipping information, which enables you to make informed decisions and quickly respond to changing customer demands.
49%
Reduction in Shipping Costs
Order Accuracy

Scan-based pick, pack and sort process, automating workflows.

SLA Adherence

Doge SLA breach with timely order processing.

Order Routing

Route orders to the nearest fulfillment center carrying the desired inventory, reducing ETA and shipping costs.

Returns Management

Get highly automated hiccup-free returns ensuring tracking of items throughout the returns process.

Omnichannel

Integrate marketplaces and web stores to manage your online orders on a single platform.
Warehouse
Management System
Increased Efficiency and Control Across Warehouses
Manage multiple warehouses in different locations, track and transfer products across warehouses based on demand, streamline operations and generate insightful reports. Our WMS ensures that all resources are put to optimum utilization. In addition, it helps to automate warehouse processes to monitor the inbound and outbound movement of goods and maintain accurate stock levels at all times.
Multi-Location
Warehouse Management
Get central control of all your warehouses. Manage stock at multiple locations and effortlessly keep track of stock transfers within your warehouses.
Real-Time Stock
Level Updates
Manage your stock on the go. Monitor stock levels whenever you create a sale or purchase order and keep complete track of your inventory.
Reports
and Insights
Create customized reports to monitor your orders status, SLA and inventory. Get actionable insights and adapt to changing customer needs.
Integrations
Plug and Play integrations for Faster Fulfillment
Integrate 50+ Marketplaces and Shopping Carts, 20+ courier partners and multiple ERP, CRM and accounting software. Experience seamless business communications, data flow, and reduced operations turnaround time.
Marketplaces
and Webstore
Integrate all the marketplaces and manage multiple channel orders on a single platform. Save your time switching between applications. Get a unified view of your orders.
Shipping
Integrations
Automate waybill generation, shipment tracking and NDR management across 20+ shipping partners. Our integrations also allow you schedule hyperlocal deliveries from your fulfillment centers and monitor deliveries in real time.
ERP
Manage your omnichannel business easily with accounting and ERP integrations. One-click integrations to automate your tax engine, reconciliations and data transfers.
Our Platform Offers
Auto Shipping Partner Assignment
Invoice and Label Printing